Celebrating A-level success on Sky News
Published on 22/08/18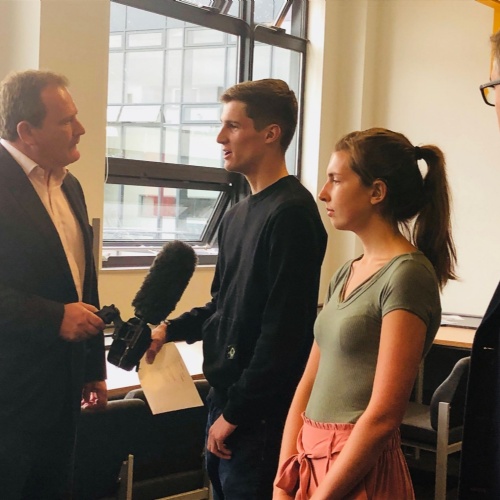 Students and staff at Silverdale Sixth Form celebrated their A-level success live on Sky News last week.
They spoke to reporters live on Sky News throughout the morning, as well as appearing later on Channel 5 news. There was lots to celebrate, including these highlights:
30% of students achieved all A or A* grades – up from 25% last year.
67% of all grades are A* to B – down from 72% the previous year but up from 64% in 2016.
One third of students achieved at least AAB grades.
One in five students achieved at least 3 A grades.
88% of all grades were at A* to C.
The overall pass rate at A* to E was 99.41%.
Head of School, Sarah Sims, said:
"Silverdale students continue to achieve outstanding A-level results. We are delighted that we have seen a big increase in the number of grades achieved at A* or A - up from 25% to 30%.
"It was always going to be hard to top last year's phenomenal A-level outcomes, when we saw a stunning spike in our results. However, 'business as usual' is still highly impressive at Silverdale, with 67% of all grades at A* to B, 88% of all grades at A* to C, and an overall pass rate of 99.41%.
"Given the continued reforms and the current funding crisis in education, it's testament to the efforts of our fantastic team of staff at Silverdale. Their talent and determination has supported our students, to help them achieve their potential, and set them on their future paths.
"We believe that our inclusive ethos is key to our success. We are a diverse Sixth Form with students from across the city and beyond. This year we are welcoming a record number of Sixth Formers into the school and we hope they can continue the success of our current cohort.
"On behalf of the staff and governors at Silverdale, and the Trustees of Chorus Education Trust, we offer our congratulations to all our students, of whom we are extremely proud.
"Anyone interested in joining Silverdale Sixth Form is welcome to attend our opening evening on Thursday 8th November.
"You can sign up here to receive the latest information about Silverdale Sixth Form."